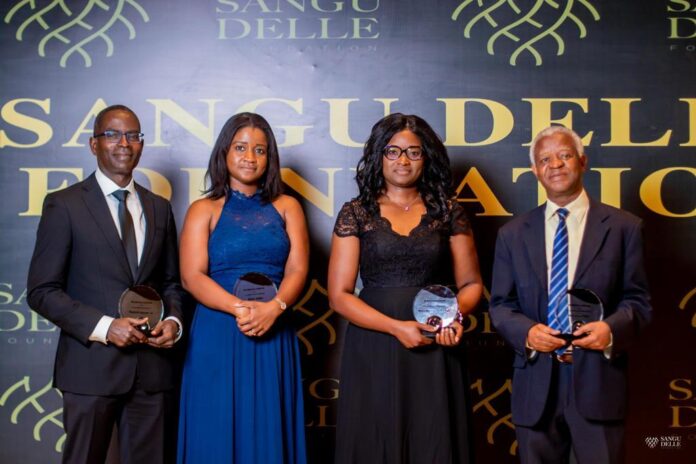 The Sangu Delle Foundation (SDF) presented the former Chief Operating Officer of the Ghana Investment Promotion Centre (GIPC) with a Leadership Award in Job Creation during its inaugural fundraising gala held at Kempinski Hotel in Accra on July 31, 2022.
This was given in recognition of her extensive work in the technology industry, entrepreneurship ecosystem, and public sector in countries such as Ghana, Nigeria, Kenya, Zambia, Zimbabwe, Netherlands, USA, and Israel that led to job creation largely for the youth.
The award particularly lauds Ms. Addo's work in Ghana's public sector – GIPC specifically – where she championed investments into the country to drive economic development and job creation.
In her speech as the keynote speaker, Ms. Addo remarked that, "while there is no silver-bullet that will solve the challenge of youth employment, a number of actions can, and should be taken to ensure that young Ghanaians are well-prepared for work—and that the work that they engage in yields substantially higher incomes than evident today."
She also reiterated her commitment to continually contribute her quota in furthering Ghana's economic development and job creation agenda, in whatever capacity she holds.
Other recipients of SDF Awards were: Founder of Ashesi University, Patrick Awuah, who received an SDF Award for Education; and CEO of Mental Health Authority, Dr Akwasi Osei, and the Co-Founder and Director of Health and Wellbeing International, Nana Ama Adom-Boakye who also received SDF Awards for Mental Health.
The Sangu Delle Foundation (SDF) was founded in 2022 as a succeeding umbrella organization for Dr. Sangu Delle's philanthropic activities.
This succeeds the CleanACWA project which operated for 15 years and impacted over 200,000 people.
With an initial endowment of $1 million and a pledge to ultimately grow this endowment to $10 million in the coming years, the SDF will focus on three core pillars; Job Creation, Health, and Education.
To achieve its objectives, the organization will allocate 50% of its resources toward projects in Nandom (Upper West Region), 30% to the rest of Ghana and 20% to projects in other African countries.
Ghana | Atinkaonline.com