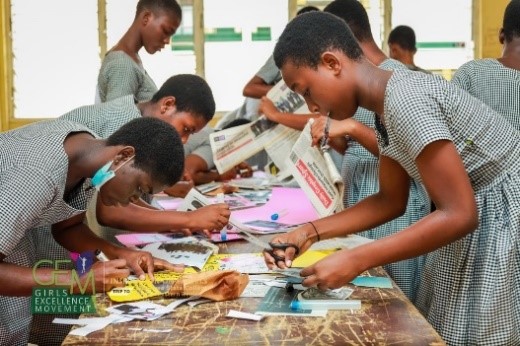 A capacity-building program dubbed Inspiration-On-Wheels aimed at equipping women and girls with relevant information, skills, and essential educational resources to excel in life, especially in the digital economy was held by the Girls Excellence Movement-GEM in collaboration with Bluetown Ghana Limited on 2nd April, 2022 at Abuakwa State College in Kyebi in the eastern region of Ghana.
The Project is part of the BLUETOWN-USAID Women's Meaningful Access Project which focuses on ensuring inclusivity of women and girls in the digital world.
Read Also: Ghana Water Company records GH¢938.83m loss
Bluetown Ghana is an internet service provider striving to provide affordable internet solutions to rural areas. Noticing the disparity in accessing the internet, and the huge gender gap between males in STEM as against females taking advantage of the opportunities offered by STEM, they partnered GEM on a training series to whip up the interest of the girls towards developing the relevant skills to explore, actively participate and contribute meaningfully to the digital sector. GEM, is a non-profit organization composed of a team of young, driven and passionate professional volunteers with diverse skillsets and careers who have committed to using their resources to build the capacity of young women and impact the next generation.
Close to 800 female students and some teachers of ABUSCO participated in the program. In her opening remarks, Ms. Ann Fesu, the Bluetown Ghana Project Lead, encouraged the girls to actively participate for the best impact of the program. She reiterated that Bluetown and its partners are working toward bridging the gender digital divide and getting girls to excel, in STEM.
The girls were taught relevant skills needed to manage peer pressure and were provided with some confidence-building skills during the plenary session of the program. Ms. Juliana Ama Kplorfia, Founder and Executive Director of GEM highlighted the fact that peer pressure could be positive or negative, explicit or implicit, and that the impact of peer pressure transcends the moment. She explained that, encouraging others to take actions that ensure their overall good like focusing on their studies is positive pressure which leads to building productive habits while operating under negative peer pressure leads to developing self-destructive habits. She emphasized "it is okay not to belong, it is okay not to fit in, it is POWERFUL to be DIFFERENT"
Ms. Lahadi Samira Mbakum Mohammed, a body positivity advocate drew the attention of the participants to the need for self-discovery and acceptance as the foundation for building self-confidence. She took participants through the process of self-discovery and guided them to list 10 personal traits in a minute. This really thrilled the participants as most expressed difficulty identifying any personal qualities, but were coached to do so successfully in the end.
During the breakout session, the participants were divided into 22 focus groups to treat specific topics relevant to their development, including STEM. Other topics handled in the focus groups included career choices, positive thinking, effective learning skills, sexual consent, online rights, building confidence, menstrual hygiene, personal branding, building a vision board, emotional intelligence, personal hygiene, and branding, SMART goal setting, etc. Each participant from the Goal setting group was guided by Mr. Aaron Lawson, a Youth Development Consultant, to create personalized study goals and schedules. Participants from the Vision Board-making group, coordinated by Mrs Melody Ofori, a Project Manager, showed off their personalized vision boards amidst visible joy and pledged to keep it updated as a guide to keep them focused through school, and later in life.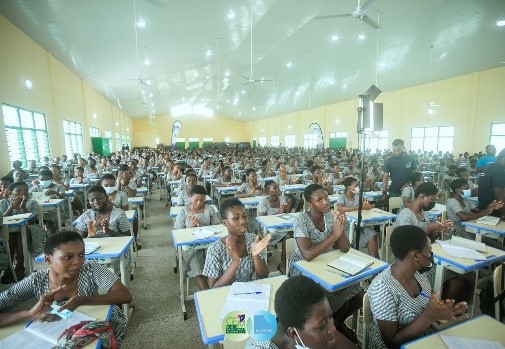 The STEM activities, coordinated by Ms. Linda Anyadipo Adamu, a laboratory technician, engaged 60 participants in easily replicable experiments namely, Water Fountain and Galaxy Milk experiments, as well as a Tower Building project which the girls happily called the Bluetown Tower. They used day-to-day items like straws, food colours, empty plastic bottles, and balloons, toothpicks, strings, marshmallows, milk, liquid soap, cotton buds among others to achieve their results. The STEM activities exposed the participants to the concept behind the flow of water in taps, the engineering behind towers and skyscrapers, ideation, air pressure, surface tension and coordination. The excitement and teamwork exhibited by the participants were exceptional.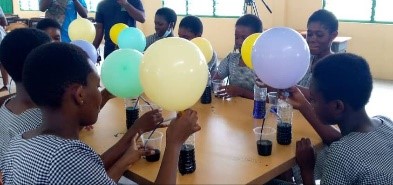 By the end of all the sessions, participants had gained a better understanding of themselves, caught a glimpse of a better future, discovered a roadmap and were poised to step out and be the best version of themselves to pursue their goals.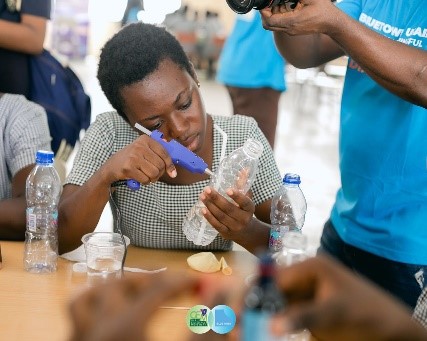 Sharing their experiences in an interview with a reporter, they shared some of their concerns. A 14-year-old girl narrated how she burns the hair on her chip and chest to avoid mockery and bullying. In an emotional turn, another participant relayed tales of bullying and mockery which made her unhappy. One participant mentioned "Although I am a prefect, I always dreaded the idea of speaking to my colleagues, but I have recognized some confidence in myself today that I never thought existed. That is why I volunteered to represent my focus group by sharing a summary of what we learnt before everyone". Another participant said "I was initially disinterested in the entire program when it was announced. However, seeing the setup and the energy of the mentors and facilitators, I knew immediately that the program was one of a kind". She participated fully and further appealed for more of such programs and visits to the school.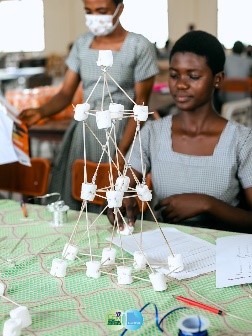 In a closing remark, Ms. Bucky Exe-Evans, director of operations at GEM, indicated that, the partnership with Bluetown was a cost-sharing one and expressed profound appreciation to Voltic Ghana Limited and Cleaver House Ghana for their immense support. She sends the usual GEM Salutes of appreciation to all individual givers, the GEM Volunteers and the Bluetown Team for a successful program.
Source: Audrey Gyamfi
Ghana| Atinkaonline.com