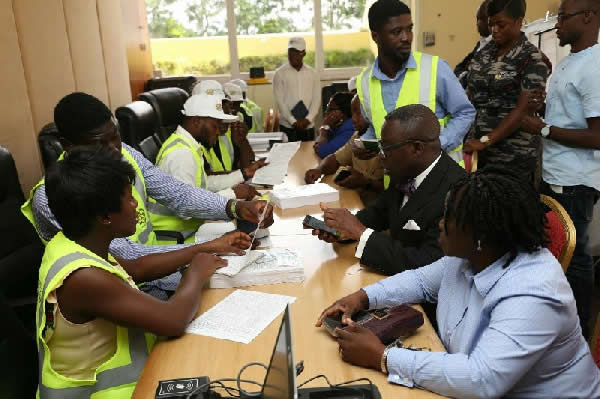 The Acting Head of Corporate Affairs at the National Identification Authority (NIA), Dr Abudu Abdul-Ganiyu has stated that with support from Parliament and District Chief Executives, Officials of the NIA will start going round communities to distribute printed Ghana cards to owners in their homes.
He also said the NIA will publish names of cards that have been printed so that the owners will know where to go for them.
This is due to the fact that some persons have complained that they are unable to go to the district offices to collect their cards due to distances.
The SIM registration exercise began on October 1, 2021 and was expected to end on March 31, 2022.
As of 17th March, 14,091,542 SIM Cards had been linked to the Ghana Card, 10,348,532 Bio-Captures conducted and 99,445 New SIMs registered.
The Minister of Communications and Digitalisation, Mrs Ursula Owusu-Ekuful said due to a number of factors including the fact that over 7.5 million citizens and residents are yet to obtain Ghana Cards to enable them register their SIM cards, it was clear that the deadline for completion of the registration of the remaining active SIM cards could not be met.
The deadline for the registration of Subscriber Identification Module (SIM) cards using details of the Ghana Card was therefore extended to July 31, 2022.
But on July 31, 2022, the deadline for the sim card re-registration exercise was extended to September 30, 2022, following public outcry.
Read Also: SIM re-registration: Momo agents beg for extension of deadline to 2023
Speaking on Atinka TV's morning show, Ghana Nie with Ekourba Gyasi Simpremu, Dr Abudu Abdul-Ganiyu said," Some people are saying that the district offices are far and so they cannot go for their printed cards, we have spoken to Parliament to grant us help. When they give us the help, we will collaborate with them and the District Chief Executives. We will go round with the cards in the communities, so that we can get closer to the people and issue the cards to them. Going forward, we will publish a list of people whose cards have been printed and are being kept at the district offices to enable the owners go for them."
Meanwhile, he said all the 292 NIA offices are still open to the public, urging all to take advantage of the extension period.
"The way forward is that we all have to sensitise Ghanaians that they should not wait till the deadline, they have a period of two months and so those who have not done it should take advantage of the 292 NIA operational offices across Ghana. We have NIA offices in all districts, we have created offices in every constituency, so people should take advantage and go to those offices to register their Ghanacards. Those who have also registered already should go to the offices to pick up their cards," he added.
Ghana| Atinkaonline.com| Porcia Oforiwaa Ofori