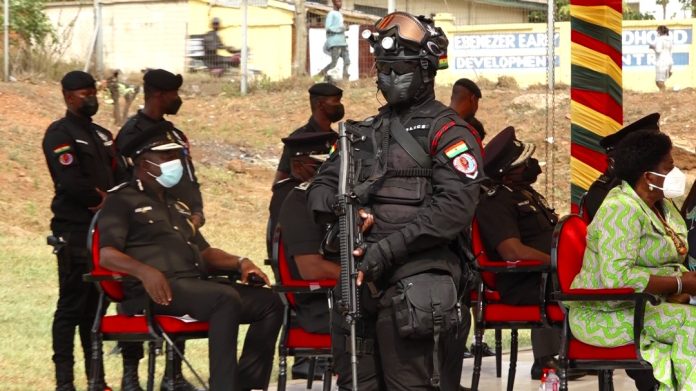 The Ghana Police Administration is set to procure body-worn Cameras for officers to wear during their normal duty tours.
Initially, the Administration will purchase 20,000 pieces and then later go for more.
This will enable the police officers capture incidents on the field, whether good or bad on the part of the police or citizens.
This was made known by the Interior Minister, Mr Ambrose Dery while speaking on behalf of the President at the inauguration and handing over of a two- storey building office by the Executive Chairman of the Tobinco Group of Companies, Elder Nana Amo Tobbin I.
Elder Nana Amo Tobbin I handed over a fully furnished ultra-modern two storey building worth GHC3,982,700 to the Ghana Police Service on Tuesday, January, 11th, 2022.
The facility, which was donated at the Nima Police Station serves as the Headquarters of the Police Professional Standards Bureau (PPSB) of the Ghana Police Service.
It has a Police Body-worn Cameras Monitoring Centre which will provide a 24-hour monitoring of personnel who will be required to wear the cameras during their duty tour.
Read Also: Akufo-Addo commends Tobinco for donating new office to Police
Speaking at the event, Mr Dery said aside the procurement of the cameras, the Police will roll out a decentralization programme leading to the establishment of Regional PPSBs across all 18 police regions to bring the bureau to the door step of all.
The above are new strategic direction of the PPSB that the current police administration under the leadership of the IGP, Dr. George Akuffo Dampare, has redefined and initiated to make the PPSB more proactive in ensuring professional standards within the service, prevent instances of unprofessionalism as far as possible and reduce instances of personnel misconduct which can trigger a reactive response.
He also mentioned the setting up of a Complaint Reporting Hotline for members of the public who feel aggrieved during any engagement with the police to call and seek redress in real time.
Mr Dery said the administration will activate a WhatsApp number for members of the public to send video footages of police conduct, both good and bad for investigation and commendation as the case may be.
Ghana| Atinkaonline.com| Porcia Oforiwaa Ofori
Writer's email: [email protected]