At least two children and a woman were killed after a church collapsed during a service on Tuesday evening in Asaba, the capital of Nigeria's southern Delta state, police have confirmed to the BBC.
Rescue used an excavator until the early hours of Wednesday to dig through the rubble to find survivors.
Delta state police spokesman Bright Edafe said that 18 people, including children, had been rescued.
Eleven of them sustained injuries and were being treated in hospital, he added.
The church building was reportedly being used for the first time. It is still unclear what caused it to collapse.
In November, more than 40 people died when a partially built block of luxury apartments collapsed in city of Lagos.
Construction experts say a lot of buildings cave in because of sub-standard material, negligence and the flouting of construction regulations.
Read Also: Stop administering Covid-19 vaccines- Concerned doctors
Read Also: IGP vows to deal with unprofessional officers
Read Also: 30K theft: 'Innocent' Fire Officers will be reinstated after probe
Big bomb explodes near Somalia's main airport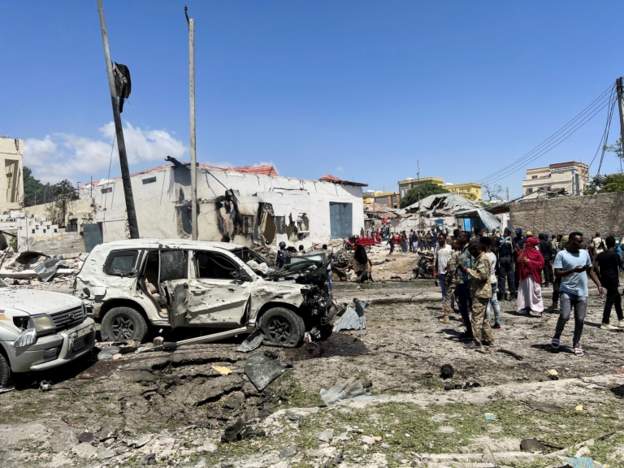 At least eight people have been killed in a bomb blast in Somalia's capital, Mogadishu, rescue workers say
The Islamist militant group al-Shabab said it carried out the attack
The blast took place on a road by the entrance to a camp for the Somali Air Force which is close to the international airport.
Witnesses told the AFP news agency that a private security convoy, escorting foreigners, was passing by when the bomb exploded.
"The blast was so huge that it has destroyed most of the buildings nearby the road and vehicles passing by the area," Hassan Nur said.
"I saw several dead and wounded people strewn in the road," he added.
Source: BBC