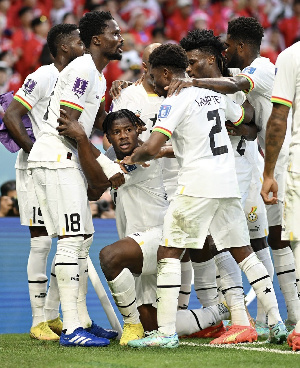 Ghana won 3: 2 against South Korea in the 2022 FIFA World Cup on Monday, November 28,2022, placing the country second on its table after Portugal.
This was one of the most dramatic matches ever seen in the ongoing tournament.
Ghana led the South Koreans with 2 nil in the first half.
But in the second half, the South Koreans equalized with two goals.
However, the new baby boy of the season, Mohammed Kudus gave Ghana the third goal placing the team ahead of the South Koreans.
Despite the win, Ghana had to soak up so much pressure from South Korea during the last minutes of the game.
In the extra 10 minutes, it was a heart testing game for both the fans at home and on the field as South Korea kept persisting for an equalizer.
Fortunately for the Ghana boys, time was all up, and the game came to an end.
At the end of the match, Kudus won the man of the match for scoring two for Ghana.
Meanwhile, Ghana is expected to win against Uruguay in its next game to qualify for the next stage of the competition.
Read Also: "We paid for our mistakes" – Andre Ayew
Ghana| Atinkaonline.com| Porcia Oforiwaa Ofori