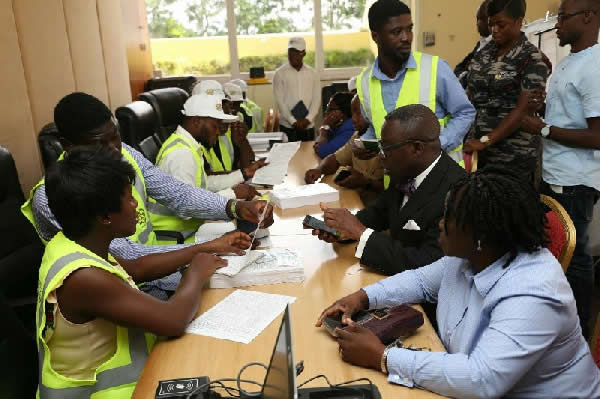 The Deputy Oti Region Communications Officer of the opposition National Democratic Congress (NDC), Mr Abraham Boafo has urged the Communications Minister, Ursula Owusu-Ekuful to allow Ghanaians to use the voters' ID card for the SIM card re-registration.
He was of the belief that the Voters' ID was accepted and used to bring the NPP-Government to power and so the government should not trash it as far as the SIM card re-registration exercise is concerned.
The SIM registration exercise began on October 1, 2021 and was expected to end on March 31, 2022.
As of 17th March, 14,091,542 SIM Cards had been linked to the Ghana Card, 10,348,532 Bio-Captures conducted and 99,445 New SIMs registered.
The Minister of Communications and Digitalisation, Mrs Ursula Owusu-Ekuful said due to a number of factors including the fact that over 7.5 million citizens and residents are yet to obtain Ghana Cards to enable them register their SIM cards, it was clear that the deadline for completion of the registration of the remaining active SIM cards could not be met.
The deadline for the registration of Subscriber Identification Module (SIM) cards using details of the Ghana Card was therefore extended to July 31, 2022.
But on July 31, 2022, the deadline for the sim card re-registration exercise was extended to September 30, 2022, following public outcry.
Read Also: NIA to deliver printed Ghana cards to people in their homes
Speaking on Atinka TV's morning show, Ghana Nie with Ekourba Gyasi Simpremu, Mr Abraham Boafo said Ghana wouldn't be facing the current issues if the voters' ID card was being used for the sim card re-registration exercise.
"A document that gave you power, you do not trash it over a document that did not give you power or has nothing to do with power. If they want to link an ID to the SIM card, it should rather be the Voters' ID card and we wouldn't have any challenges. It can run concurrently if you cannot use only the Ghana card," he said.
Meanwhile, he said the government would have lost revenue from E-levy if it had blocked unregistered sim cards.
"You said we should pay E-Levy. We can only pay E-levy when you have sim and doing mobile money, and now you want to block SIM cards, how are you going to collect the E-levy?" he quizzed.
Ghana| Atinkaonline.com| Porcia Oforiwaa Ofori