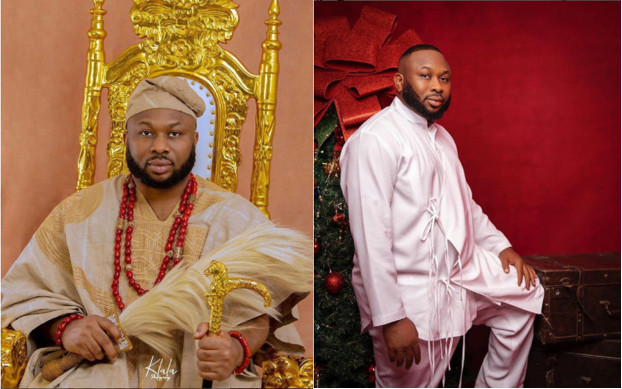 It has emerged that a notorious Nigerian INSTAGRAM 419 FRAUDSTER, OLAKUNLE CHURCHILL based in Accra has been unleashing threats on his victims after his hidden agenda and fraud has been exposed.
He recently threatened one of his victims that he will deal with her since she had no idea whom she was dealing with.
He has allegedly defrauded innocent persons and businesses running into several millions of Ghana cedis.
OLAKUNLE CHURCHILL is currently wanted by Ghana Police to face the court.
He parades himself as an INSTAGRAM CELEBRITY and a so-called PHILANTHROPIST by wooing innocent victims into all kinds of ideas best known to him but end up defrauding them by false pretense.
He is a very popular and self-acclaimed Philanthropist and so-called businessman with very large followers on all social media platforms.
OLAKUNLE CHURCHILL has allegedly defrauded a number of Ghanaian businesswomen and men.
He has slept in hotels like Tang Palace among other top hotels, rented cars to live his fake flamboyant lifestyle without paying his bills.
Read Also: Tobinco builds new office for Ghana Police
OLAKUNLE CHURCHILL is currently on the run and is believed to be hiding in Nigeria this was after a number of debtors including victims started haunting for him.
One case of reference is currently hanging at an Accra Circuit Court where he bought a furniture from a Nigerian woman valued at USD $10,000 which was discounted for even USD$7,000 but refused to pay for over a year and some months now after the goods were sent to his residence in Accra.
This is the case of a young lady who sold her furniture OLAKUNLE CHURCHILL to further her education.
After over a year and some months of pleading and persuading him for payments he finally tells her to come and pick up the furniture he had already used for two good years.
The complainant, Rachael Nwaoha known as RACHELDIIVA on INSTAGRAM who was living in Accra but currently in the UK has dragged him to court but he has since refused to file his defense.
Below is the Court Suit: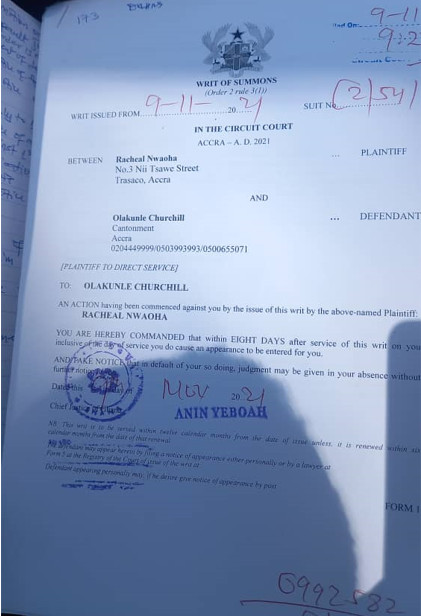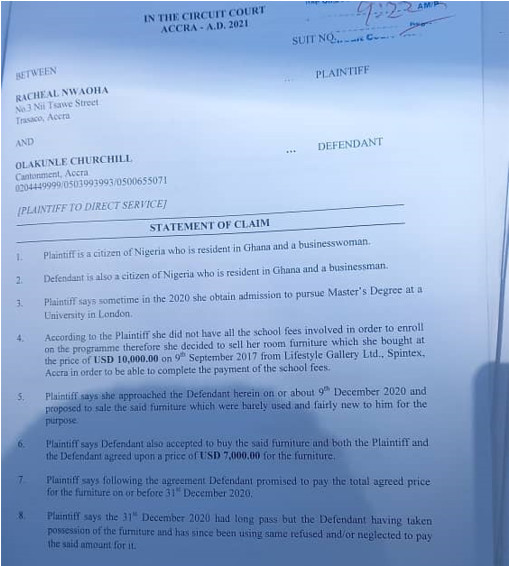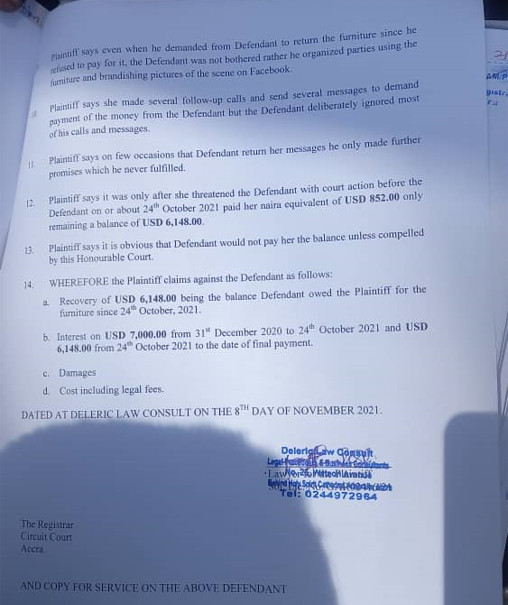 Ghana | Atinkaonline.com