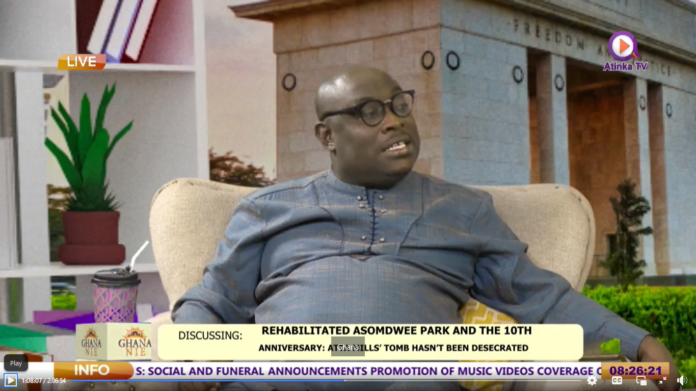 The Deputy National Communications officer for the National Democratic Congress (NDC), Mr Kwaku Boahen has said that despite being neglected by the government at the commissioning and commemoration of the late former President, Mr John Evans Atta Mills's 10th anniversary of the passing of former President John Evans Atta Mills, the NDC has put together a programme on its own to commemorate the 10th anniversary.
On Sunday, 24th July 2022, the renovated Asomdwee Park, where Ghana's former President John Evans Atta-Mills was laid to rest in 2012 was inaugurated.
The 'New' Asomdwee Park was commissioned by the President, Nana Addo Dankwa Akufo Addo.
It was renovated by the Atta Mills Institute in collaboration with the Coastal Development Authority.
Before the commissioning of the Park, some members of former President Atta-Mills' family accused the government and the Coastal Development Authority of neglecting the family in the attempt to renovate the Park and requested the body of President Mills be given to them for reburial in his hometown, Ekumfi-Atuam in the Central Region.
Meanwhile, the NDC's also accused the government of neglecting them in their plans to commission the new Asomdwee Park.
Read Also: Photos: Akufo-Addo commissions renovated Asomdwee Park
Speaking on Atinka TV's morning show, Mr Kwauku Boahen said the NDC has put together a lecture in honour of the Late Evans Attah Mills which will be held on Tuesday, July 26, 2022.
According to him, the NDC's have the late Professor Mills at heart and respect what he did for them and so will not give up in honouring him.
He said as part of activities to commemorate the 1oth anniversary, a book will launched in honour of Atta Mills on Wednesday, July 27, 2022.
Meanwhile, he said it was unnecessary for President Akufo Addo to go and commission the Asomdwee Park which was not renovated by him.
"Was this something he had to go and commission?, something that someone built and it was renovated? Where we have gotten to as a country, some things are not necessary." he said.
Ghana| Atinkaonline.com| Porcia Oforiwaa Ofori