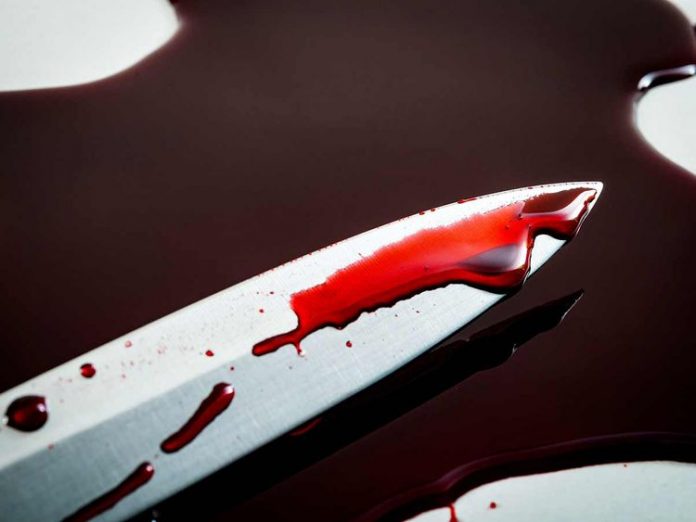 George Mudor, a 71-year-old visually impaired man, has murdered his wife, 65, in Nkawkaw Abepotia, Kwahu West Municipality, Eastern Region.
The woman, identified as Georgina Mudor, had previously threatened to divorce him for another man.
According to reports, the victim informed her spouse that he had become difficult to manage and that she desired a divorce.
However, the man was unhappy because he claimed that his wife assisted him with his daily activities.
Due to this, he begged the woman to remain with him, but she refused.
The man later beheaded the woman while she was asleep.
According to reports, after beheading his wife, the old man went outside to tell his children that he had murdered their mother and asked them to bring her corpse outside.
In the meantime, the suspect has been apprehended and is assisting the Nkawkaw Police with their investigation.
The corpse has also been transported to the Holy Family Hospital Morgue for autopsy.
Read Also: Photos : Atinka Kids Dance officially launched
In other news: Upsurge in HIV/AIDS: Be faithful to your partners- Expert to couples
The President of the Ghana HIV and AIDS Network (GHANET) has urged married couples to be faithful to themselves and their partners in order to prevent the spread of HIV/AIDS.
He has also advised the youth to abstain from sex until they are married.
He said this following an upsurge of HIV/Aids cases in the country.
"If you are not ready for sex, abstain from it; it is for adults and married people. If you are married too, be faithful to yourself and your partner. Do not use a sharp object someone has used and when you go to the hospital and they want to give you blood, make sure it has been thoroughly tested," he advised.
Read Also: Health Ministry receive vaccines for measles
Touching on the statistics on Atinka TV's morning show, Ghana Nie with Abena Dufie, Mr Ernest Amoabeng Ostin said in 2022 alone, there were 33,000 new cases between January to September.
The above figure, he indicated, was higher than that of the previous years.
Previously, he said the new cases were 18,000 or 19,000 a year, but for the first nine months of 2022, the new infections went up.
He admitted that the numbers went up because more testing were done, adding that over 800,000 testing was done in 2022 alone.
Ghana| Atinkaonline.com| Porcia Oforiwaa Ofori